Tribute to two Macarenos bearers.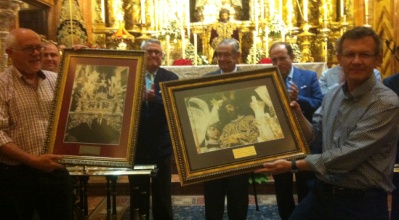 At the end of the monthly Mass, dedicated to the Brotherhood of Our Father Jesus Judgment, the bearers of the passage of Lord wanted to pay tribute to two great Macarenos that for over thirty year have been part of these elected to bring Christ in the early morning of Friday.
Juan Antonio Eliso Velez and José Luis Vega have passed, more than half of their lives, under the trabajaderas the passage of Christ of the Judgment, and in the case of "Eliso", the last eighteen years as foreman of this step of mystery that amazes those who contemplate on the early morning of Saturday.
A tribute they receive from their own peers, who until recently, shared effort and tears, emotions and sweat, toil and soliaridad.
The Hermandas already recognized, a few weeks ago, the dedication of these men, especially to Juan Antonio Eliso, which presented a memory in gratitude for the years of dedication.