Life, our sweetness and our hope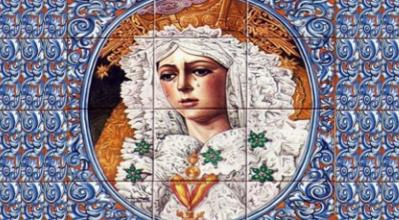 Never was so well known anonymity. That must think who on a spring afternoon likely of those that gives the eternal city is not Rome but Sevilla in Lent, Immaculate imagine your divine face as the sun rested on the horizon which creates the mirror Guadalquivir, unfair reflection of such beauty.
Both fear felt who you look into his eyes after petting your pearly last skin with the tip of the chisel, which would leave no trace to be recognized as a master carver, as creator of the impossible, as the father of the purest beauty is remembered and venerated in a city prostrate before the canopy of the Macarena.
It was such a slur he uttered in the creation, that for fear of offending God himself, that of powerful and humble stride who comes to meet the sheep to offer rivers of mercy in the Plaza de San Lorenzo, which Initial or wanted record in a timber of love and forgiveness from the trunk of the tree of original sin.
Perhaps it was naive to believe that it was the all you can virtuous became their hands on tools to carve that child looking lass always April, and despite the passing of the years, meets tender nineteen. And such was his work that when he looked might hear a thunderous voice calm and confident saying: "Son behold your Mother, Mother behold your people." Christians able to walk in darkness, deprived of shelter, water, wealth, and even in these surrender homage and shower you with praise, because you can live without air, but not without hope.
"YOU bullfighter mourning that lights at dawn and queen are crowned in the glare
San Gil wakes the glow green roses strung five
What are the prelude to a door arched sky Marian
It is precisely the mystery that surrounds you that makes us hold your hand
Because you can be chocking Seville Roman sandals
Neither captive purple dress sentenced without Nazarene
Sevilla without Macarenos no. "
Francisco Javier Zambrano Garcia