IV Centenary of the Brotherhood's Foundation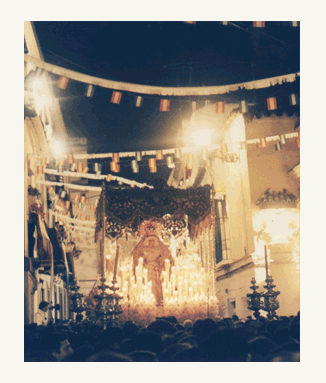 In 1995 La Hermandad de la Macarena organized an extensive programme of events and ceremonies to commemorate the IV Centenary of its foundation.The programme started on 18th December 1994, Feast Day of Nuestra Señora de la Esperanza , with a Solemn Pontifical Mass celebrated by the Archbishop of Seville, Fray Carlos Amigo Vallejo. The Mass was followed by the presentation of the centenary poster, a design by the painter Juan Roldán.
On 22nd January 1995 José Luis Garrido García-Bustamante delivered the Pregón, or official proclamation, of the IV Centenary of the Founding of the Brotherhood, after an introduction by the Chairman of the Consejo General de Cofradías (General Council of Religious Brotherhoods), Brotherhood member Antonio Ríos Ramos.
On 23rd and 24th June there was a Symposium for Brotherhoods dedicated to La Virgen de la Esperanza, with the participation of brotherhoods from a number of different cities in Spain, and between 21st and 23rd September the Biblioteca Colombina (Columbian Library) held a Theological Convention on the subject of "Mary and Hope".
The key commemorative event took place on 23rd September, in the form of a Solemn Pontifical Mass presided by the Most Reverend Fray Carlos Amigo Vallejo, Archbishop of Seville and co-celebrated by more than thirty priests. The ceremony took place beneath the Arch of La Puerta de La Macarena before the image of La Santísima Virgen de la Esperanza. It was attended by H.R.H. Esperanza de Borbón y Orleáns, representing the Spanish Crown, three thousand invited guests and a multitudinous standing crowd, which filled the entire esplanade of the Basilica and the adjacent streets. After the Mass, at quarter past ten in the evening, the paso of La Santísima Virgen de la Esperanza was carried through the streets in procession surrounded by such an enormous crowd that its progress was severely hampered. It seemed as if all of Seville was out in the street with the Virgin. Eventually, after a moving procession through the Macarena quarter, the paso of La Virgen made its triumphal entry into the Basilica at quarter past seven in the morning.