Polyphonic Choir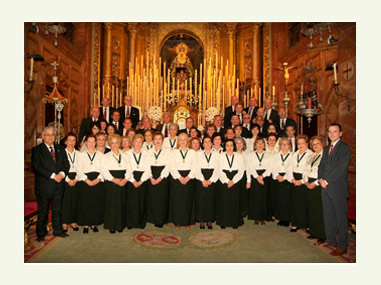 The Coral Polifónica
"Macarena" ("Macarena" Polyphonic Choir)
began its career in February 1990, finally putting into practice a project that had long been cherished by La Hermandad de la Esperanza Macarena.
On 26th May that year, the last Saturday of the month, the Choir sang at its first religious ceremony in the Basilica. The repertoire on that first occasion was limited to Juan Vázquez's Salve, with solo performances by Angelita Yruela and María Teresa Martínez. The organist was Fernando Collantes de Terán. Five days later the Choir took part in the ceremonial inauguration of a painting of María Santísima de la Esperanza at the Hospital Universitario "Virgen Macarena". These two events were the Choir's first two performances ever.
Right from the start the Choir's clearly defined objective was to be an eminently liturgical ensemble dedicated principally to the religious ceremonies organized by the Brotherhood. It combined popular religious music with Gregorian chant, classical and modern polyphonic singing and the Brotherhood's own traditional coplas.
The Choir's repertoire includes several polyphonic and Gregorian Masses, numerous motets and several other popular religious vocal accompaniments, which it performs at the Brotherhood's ceremonies. On many occasions it has also performed outside the Basilica, offering a number of major concerts.
Since its creation, the Coral Polifónica "Macarena" has been directed by the retired primary school teacher José Márquez Morales, a qualified Music and Singing teacher accredited by the Conservatorio Superior de Música in Seville. Márquez Morales has studied Gregorian chant and classical polyphonic singing at the Escuela Superior de Música Sagrada (Advanced School of Sacred Music) in Madrid, under such eminent teachers as Father Manzarraga, CMF and Father Samuel Rubio OSA.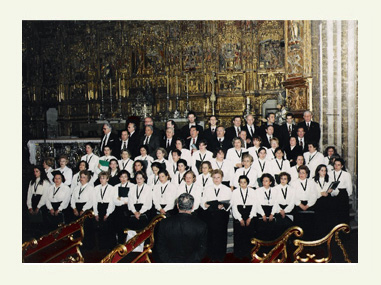 The Polyphonic Choir was directed from its inception until October 2012 by Jose Marquez Morales, Professor of Music and Song, a graduate of the Conservatory of Music in Seville. Since then has served as director Alberto Tejada Barea (Ronda, 1973), musician, composer, conductor and chorus and sound engineer.
He began his studies in the Choir of the Choral Society in 1980 Porto, She continued her training at the Conservatorio Superior de Sevilla getting the titles of Professor of Foundations of composition, piano and music theory, and sight-transport.
Gilles has studied singing with Schneider in Paris, with choral Lluís Vila, Nestor Andrenazzi and Alberto Grau, and conducting with Laszlo Heltay, expanding their training as a sound technician in Barcelona. Coral is Director of Choral Portuense between 1992-1998, from which creates the vocal group "The Garden of Schönberg "with whom he collaborated on studies of South Channel and Antena 3 Andalusia.
Director and Baroque instrumental group component "Sketches wind ", baroque flute quintet has played in parts spanning the Baroque to the twentieth century and collaborating in early music festivals in Portugal. Director vocal quartet "Quarti Toni" who made the investigation of vocal music in around the Renaissance. Share your knowledge in turn with groups "Axabeba" and "Gregorian Schola Hispalensis", with whom participates in the search for medieval music at its best, both vocal and instrumental, through the instrument tañir all kinds, of which include the organeto, the hurdy-gurdy, flutes, flutes, oboes and rattan.
As lead singer has performed works among which are several Bach Cantatas, "Jesu Membra Nostri" of Buxtehude, "The Messiah" by Handel, "Requiem" by Victoria for 4 voices, or "Atlantis" de Falla, among others.
As a composer, he has made several commissioned works for different instrumental and vocal groups among which is a symphonic poem dedicated to resting in Lignum Crucis Potes (Cantabria), a symphony dedicated to Sevilla for band, released in Valencia in May 2007, incidental music for numerous plays classical Greco-Roman for the company "Balbo theater" that include the musical "Miles Gloriosus "as well as short film and several works for chorus and orchestra. For the Brotherhood of the funeral march composed Macarena "Claudia Procula" fits, with Jose Manuel Toscano, the master's work Quiroga "Esperanza y Macarena" and put music to the poem "Canción del beso en su mano" of Rodriguez Buzón.
Choral Award in the international competition Portugalete, and award for best choral performance in the theatre "Villamarta" of Jerez de la Frontera, in the annual music festival Granada and Jaen coral Coral Orfeón to Porto. First Prize in its category in the first Choral Festival in the province of Seville 2009. Finalist in the gears of the city of San Fernando (Cádiz).