The Brotherhood in the age of enlightenment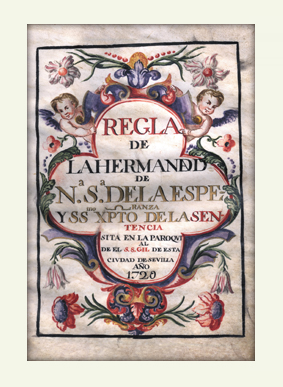 The Cofradía de la Sentencia y Nuestra Señora de la Esperanza organized Easter processions almost every year from the beginning of the 18th century up to 1788. In that year an order was issued that all brotherhoods lacking Royal Authorization should be disbanded, and the processions therefore had to stop. While the Brotherhood worked to obtain this authorization – the application necessarily had to be submitted via the Real Audiencia (Royal Tribunal), it lost ground to La Hermandad de Gloria (Brotherhood of the Glory), also known as the Congregación del Rosario (Congregation of the Holy Rosary), another confraternity which had been established in the Parish Church of San Gil and which for some time now had once again been quite active; when Royal Authorization was eventually granted, the Penitent Brotherhood found its approval by the Consejo Supremo de Castilla (Royal and Supreme Council of Castile) beset by obstacles. The Cofradía de la Sentencia finally received permission to remain in existence, under the express condition that it should merge with La Hermandad de Nuestra Señora del Rosario (the Brotherhood of Our Lady of the Rosary).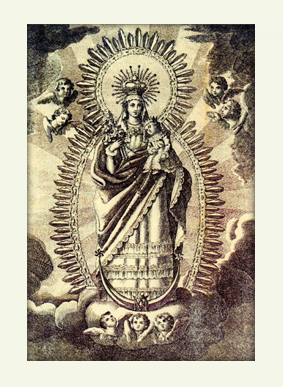 In 1797, almost 60 years before Pope Pius IX formally established the Dogma of the Immaculate Conception of the Virgin Mary, the Brotherhood solemnly swore to defend the doctrine. One of the concessions granted by Pope Pius VIII in 1830 was that the altar to the Lord and the Virgin should be a "perpetual altar" for any secular or regular priest celebrating Holy Mass for the soul of any deceased member of the Brotherhood. A plenary indulgence was also granted to those who visited and prayed before the Sacred Images.
The Hermano Mayor (Senior Brother) Juan Nepomuceno Sarramián y Ordóñez successfully arranged the incorporation of the Parish of San Gil, the Chapel of La Esperanza and the Brotherhood itself into the Basilica of Saint John Lateran in Rome, by virtue of the fact that this was the seat of the Brotherhood of 'D. N. Jesús Christi morte condemnati et Ssmae. Virginis maride sanctae spei'. The incorporation was approved by the auditor of the Sacred Roman Rota and authorized by Pope Pius VIII.