Governor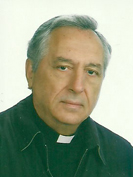 REVEREND Mr ANTONIO BORREGO COBOS
GOVERNOR OF THE BASILICA OF SANTA MARIA DE LA ESPERANZA MACARENA
Mr Antonio Borrego Cobos was born on 27th February 1945, in the small town of Corcoya, near Badolatosa (Seville). In 1958, he enrols in the Minor Diocesan Seminar, where he started studying Humanities. He finished in the year 1963. Then, he started his training in the fields of Philosophy and Theology in the Main Diocesan Seminar of San Telmo. In 1970, he was sent to the Main Diocesan Seminar in Pilas, as an assistant for the Seminar.
In 1971, he was ordained from the Honourable Mr José Maria Bueno Monreal, Cardinal of Seville, on 13th November 1971, in the Chapel of the Main Diocesan Seminar of San Telmo.
In 1971, he is named vice-chancellor of the Residencia de Estudiantes, placed at the San Telmo Palace. He held this position until 15th November 1973, when he was named parish priest in the church of Nuestra Señora del Amparo y San Fernando, in Dos Hermanas, very close to Seville.
In 1975, he finished his degree in Philosophy and Humanities, majoring in classic Languages. He had started his studies in 1970, in the Universidad de Sevilla.
From 1974 to 1979, he works as the spiritual guide in Valme High School, in Dos Hermanas. That same year, he takes the public exam to become a Latin and Greek teacher. He gets a post at San Pablo High School, in Seville, where he stays until his retirement, in 2002.
In the years between 1982 and 1985, he taught Latin in the Theological Studies Centre in Seville.
On 4th July 2007, he was named parish priest in San Gil Abad, in Seville.
On 19th July 2010, he was named Governor of the Basilica of Santa Maria de la Esperanza Macarena