Our Lady of the Holy Rosary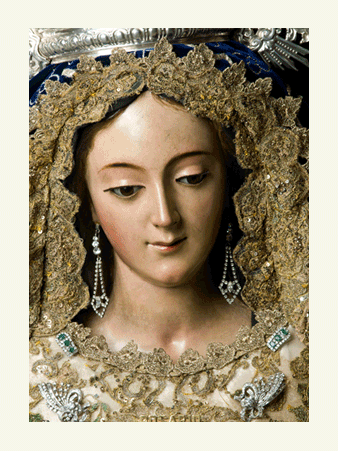 The image of Nuestra Señora del Santo Rosario (Our Lady of the Holy Rosary) is an anonymous work attributed by some scholars to Pedro Duque Cornejo.
The sculpture of the Infant Jesus held in Mary's arms is an earlier work dating from the early 16th century. The image of the Virgin was originally a complete fully carved figure, but was later transformed into a waist up, frame-supported image. By 1882 it had sustained considerable damage, and in that year it was comprehensively restored by the sculptor Manuel Gutiérrez Cano.
In 1960 the Virgin Mary's hands were replaced by new ones made by Antonio Eslava, and in 1980 the image was restored again by Francisco Arquillo Torres.