Minor Basilica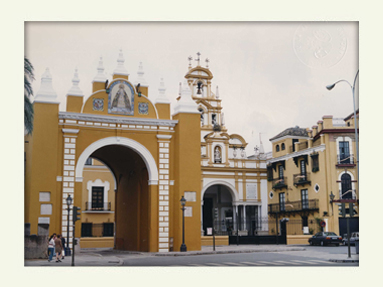 In 1936 Teresa Díaz donated land to La Hermandad de la Macarena as a site for the construction of a chapel. The architect Aurelio Gómez Millán was commissioned to produce a preliminary design project, and construction work was authorized to begin in 1938, when La Hermandad acquired more land adjacent to the initial site. In 1941 Cardinal Segura laid the first stone of the new Church of La Macarena in a ceremony attended by Seville's civil and military authorities and marked by the presence of the image of the Holy Virgin, which had been brought in procession from the Church of La Asunción for the occasion.
The new church was officially blessed on 18th March 1949. It occupies a total area of 1,239 square metres, of which 1,048 correspond to the building itself and the rest to the entrance courtyard at Calle Bécquer , Nº 1.
The Basilica, which comprises a nave 21 metres long and 11 metres wide, is accessed through an atrium. Its presbytery is 7 metres wide and 8 metres deep, and houses the main altarpiece with La Santísima Virgen de la Esperanza Macarena occupying an embedded chamber known as the camarín. On the right and left hand sides there are four chapels, each four metres deep, dedicated to the titular images of El Señor de la Sentencia and Nuestra Señora del Santo Rosario and to the altars of El Cristo de la Salvación and La Hispanidad.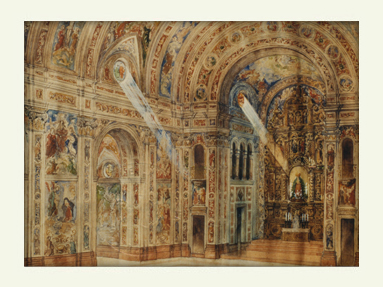 In 1965 Canon Francisco Gil Delgado announced to La Hermandad that H.E. Cardinal Bueno Monreal had received notification from the Holy See in Rome that, pending its consecration and the completion of the necessary paperwork, the temple would in due course be granted the status of Minor Basilica.
The ceiling vaults of the Basilica were decorated by the painter Rafael Rodrígues Hernández, an artist of acknowledged expertise and proven experience, between 1983 and 1993.
In 1991 a series of reforms were carried out. One of these was the remodelling of the bell tower. An extra body was added with one single opening for a new bell, flanked by pyramidal pinnacles similar to those which already existed. The sides of the new section of the tower were embellished with rectilinear brickwork scrolling. The lily vases made by Orfebrería Delgado López were also replaced, and a bronze crown was fitted. The crown was a replica of the Gold Crown of La Virgen de la Esperanza, which had been crafted by the same workshop.