The 17TH Century
The 17th century was a time of great transformation for the Brotherhood. Twenty years after its creation, it was eager to assume its role in a period of renewed corporate fervour fired by the notions of an evangelizing mission and the triumph of Catholic Faith as proclaimed in the Council of Trent. In March 1615 it therefore authorized the solicitor Alonso Ruiz de Zamudio to make representation before the Provisor Gonzalo de Ocampo on its behalf, that he might "acquire permission for the said Brotherhood to go out in procession every year forever and ever on the morning of Good Friday to visit the Holy Cathedral of this city like the other Holy Week Brotherhoods". The instructions added "and may the aforementioned permission be recorded in writing in the Rules of the aforementioned Brotherhood".
The Church authorities, however, granted permission neither for the procession nor for any alteration to the brotherhood's charter, although it has been confirmed that they did later allow the members of La Hermandad de la Esperanza to walk behind the image of the Santo Cristo Humillado as associates. In 1621 La Hermandad del Santo Cristo Humillado, which until then had been based in Omnium Sanctorum, moved to San Basilio.
Authorization to go out in procession finally arrived in 1624, and a new chapter was duly added to the Brotherhood's rules: "on how the brothers are to conduct themselves when they all go out together as a brotherhood and confraternity in Holy Week in procession with the other brotherhoods".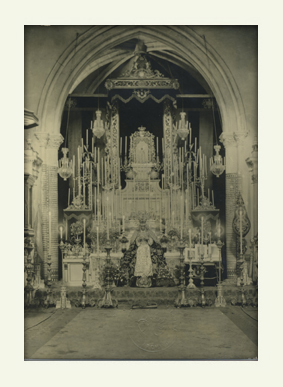 In 1653, for a number of different reasons, the Brotherhood moved to the Parish Church of San Gil Abad. Most of the members already belonged to this parish, and the Brotherhood would now be based there for the next three hundred year.
The following year, 1654, saw the addition of new chapters to the Rules. The most important new section was the first: " from this day on the said Brotherhood shall bear the title of "La Sentencia de muerte que dieron a Christo nuestro Redemptor y Nra. Srª. de La Esperanza". In other words, the brotherhood received a new titular image, that of Nuestro Padre Jesús de la Sentencia (Our Father Jesus Christ of the Death Sentence).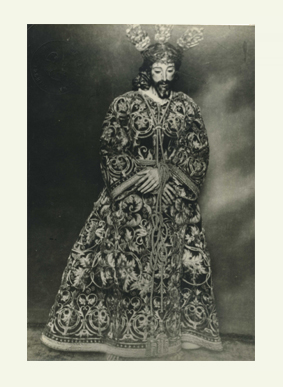 In 1659 a separate chapel was designed and built for use by the Brotherhood, and on 13th July 1670 the title deed was signed granting La Hermandad de la Esperanza ownership of a chapel in the Parish Church of San Gil. The Chapel was finally completed in 1691. In 1684 Pope Saint Innocent XI granted the altar of La Virgen de la Esperanza the privilege of a Forty Hour Jubilee and the Seville Prelate Ambrosio Spinola y Guzman authorized Exposition of the Holy Sacrament there during the Feast of the Holy Cross.