The offering of toys the child Jesus, will be held on December 26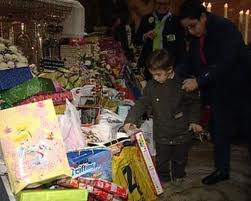 Youth Welfare Macarena and want to wish you a Merry Christmas with your family, very close together at the Portal de Belen, and the Virgin of Hope fill you with great joy the New Year.
As at this time we all like to be surrounded by our family and friend s, the Brotherhood of the Macarena wants to contribute to these days of happiness and joy, celebrating the traditional "Toys Offering the Christ Child," which will take place on Monday December 26 at thirteen hours. In this event, you are the protagonist so we invite you to participate in it. In this celebration each child should bring a new toy to give the child Jesus and thus collaborate with the Magi to have them delivered to needy children in our neighborhood macareno.
We also visit a royal page sent by SS. MM. the Magi, coming directly from the East to collect your letters. Do not forget to bring written from home.
The event will feature a choir singing Christmas carols with their happy child dedicated to God. We hope to hear your voice because we are sure that you know some.
At the end of the event, the fraternity house, open the bar for you to enjoy together with our parents, grandparents, siblings and friends, a nice little bit of coexistence.