The kiss macareno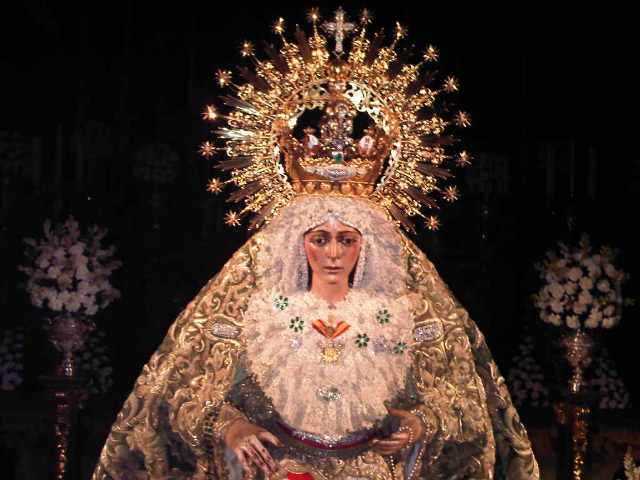 On Thursday morning different. La Virgen de la Esperanza, the picture in your wallet and old tiles in the neighborhood, had left his dressing room for a few days after birth of baby Jesus, receive kisses and caresses all who approached his house.
During these days, coming to your party, in which it is "blessed among all women" is closer, had only to look at the people passing before her to realize the infinite, the intensity and intimacy of lived moments.
I still remember the emotion and tears in the eyes of that old woman, lying on a chair and an old medal in his hands trembling, slowly approached the Virgin. Surrounded by her family, sat slightly to let her kiss on the hand from which it originated. The woman, whom embraced his grandson, and that he escaped from the lips "thank you" before the eyes of the Mother of men, had first seen the Virgin of Hope in the distant twenties when was just a girl a few years. Since then, no year has missed the appointment. But this time was different, conscious of his health suffering, he knew that probably this was the last time in her so close.
It is perhaps, in moments like this, where lies the mystery of the turrets guarding the joy and expression left in the old, useless attempting to describe to be beyond reason. This is a mere example of what living these days in the temple of the glare, before the night of Sunday, the Virgen de la Esperanza climb the stairs again, to return to heaven with marble and silver, to She did Marmolejo.
Thus, between the joy proper to the proximity of Christmas bell ringers and choirs, the Seville brother, and also the not-so-brother, came to kiss the hands of Our Lady of Hope. Hands, who despite being wood, are human and cross the gate and fence of the court, to be where most needed. Hands of Hope who are caring for a helpless child, who gives health to the sick in a hospital, who helps the poor and feed the hungry, and who gives breath to so many families in these hard times are being evicted.
Thus, the multitude of men, women and children, regardless of class, wanted to enjoy the closeness of the Virgen de la Esperanza, was striking and, why not say so?, Exciting and moving. He escaped to the predictable. They say that it is perhaps in these times of crisis when most people cling to faith and a sense of hope. At the end of the day, as the sages said in ancient Greece, "Hope is the only thing common to all men who have lost everything, yet possess."
NHD Javier Alba Gallardo