Draw two tickets for bullfighting season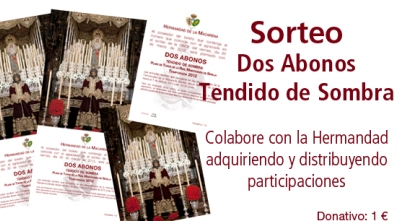 One year, our re-promote Brotherhood draw laying two tickets for bullfighting seasonSHADOW held in the Plaza de Toros de la Real Maestranza de Sevilla Cavalry.
The donation for each entry, which includes four issues at stake, is 1 €.
Participation will be graced one containing the winning number in the draw of theONCE a day March 30, 2012, Good Friday.
The profit is generated from the sale of these shares, is a very significant contribution towards the costs specific to the Corporation, particularly high during Lent and Easter.
Therefore requested the invaluable collaboration of the brothers and volunteers to participate in this initiative so necessary, acquiring and distributing shares of the draw.
The shares have returned to make both individual card format (print of the Lord and the Blessed. Virgen de la Esperanza), as in books of 50 ballots, which can be collected at the secretariat of the Brotherhood of Mon-Friday from 9.30 to 14 and from 17.15 to 21 hours. Whoever you are unable to collect, you can send if anypreviously requested by email, hermandaddelamacarena@esperanza-macarena.es, fax (954 90 31 77) or by phone at 954,901,800, expressing thedesire to receive at home.