XLVIII Anniversary of the Coronation of the Blessed Virgin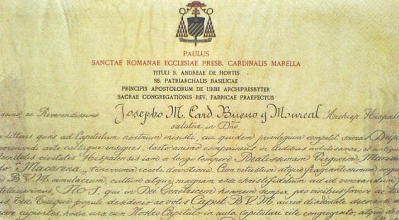 The next Thursday May 31, 2012, Feast of the Visitation of the Blessed Virgin Mary, half past eight o'clock, will be held SOLEMN FUNCTION XLVICommemorative Anniversary of the Dedication of the Basilica and XLVIII of the Canonical Coronation of OUR LADY OF HOPE MACARENA will be chaired bythe Hon. and Rt. Mr. N.H.D. Juan del Rio Martin, Archbishop Military of Spain.
 The solemn function was implemented by the Sisters of the Cross, Godmothersof the Canonical Coronation of the Blessed Virgin.Every day of May the Holy Rosary will be recited at 7.40 pm. pm, except on 31May, which will be prayed before the start of the solemn function. How faithful to visit the Basilica in the Memorial Festival, on May 31, will earn 500 days ofindulgences in the normal manner.