Belarusian children come to the Macarena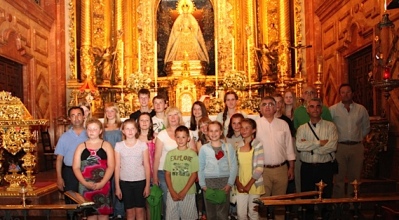 Belarusian children come to the Macarena
On the evening of Thursday June 21 arrived, the Basilica of Santa Maria de la Esperanza Macarena, the seventeen children that our Brotherhood welcomes Belarus, within the activities of social assistance, and that fall under the sanitation program these children need to preserve their health.
The stay in our city, where they will reside in homes Macarenos will extend for forty-two days, where children will be compensated from the damaging effects that radiation is emitted due to the Chernobyl disaster, and according to the World Health lengthen the positive impact your life span by two years.
The host families, some of which are in the program since the start of it in 2004, received the award of Hope in the doors of the Basilica, the illusion faces trespassing and relived moments of unusual excitement.
Photos NHD Antonio Muñoz Tirado