Marches for Concert Band "The Iris". Almería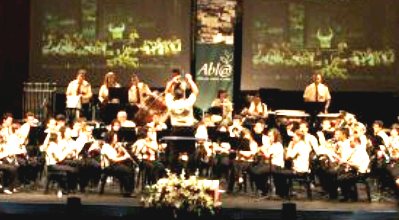 Next Saturday November 17 17:30 the Band of "Iris" Instinción, Almería city, will offer a concert at the Basilica of processional marches, whose program is as follows:
ESPERANZA MACARENA (P. Morales)
JERUSALÉN (J. Vélez)
VIRGEN DEL ROSARIO (G. A. Beigbeder)
ROCÍO (M. R. Vidriet)
MARÍA SANTÍSIMA DEL DULCE NOMBRE (L. Lerate)
CORONACIÓN (M. Marvizón y J.J. Puntas)
CONCHA (V. M. Ferrer)
MACARENA (E. Cebrián)
MADRUGA MACARENA (P. Ojeda)
PASA LA VIRGEN MACARENA (P. Gámez Laserna)
Como bis CORONACION DE LA MACARENA (P. Braña)
Historical review:
The first written records and photographs of those who were aware about the band's music Instinción dating from 1840, although there are references to its existence since the first decade of the nineteenth century. In the second half of that century took over the direction D. Manuel Blanes whom he succeeded Alex D. José Iborra Lazarus. Instinción always been a town with a great musical tradition.
The trajectory and performance since its inception has been continued to the present day, and only in the period from 1936 (on the occasion of the Civil War) until 1941 there is a period in which the band ceases to function as such. It is from this year and despite all the economic difficulties and, once you get back on track this musical group with director D. Dionisio Berenguel Alcaraz, introducing new blood in the band, providing a large number of youth.
At the end of the 70 starts to drop the number of musicians, were difficult times for the bands in Spain and only a few people knew endure this crisis. It is in this decade that begins a new stage in the musical culture of Instinción, based on continuous movement throughout Spain Almeria, Granada and Murcia.
In 1980 he is the "Cultural Association The Iris" legal name of our group, it is from this point that begins deep renovations leading to the election as a director of D. Carlos J. Salvador Pardo in 1985. From this time until his death in November 1996, the goal was that in every corner of Instinción had interest in music, encouraging young people to participate hiciesen of this great musical tradition of the people.
From December 1996 became director enthusiastic young son of the town D. Felipe Berenguel Bruque, increasing the quality and the number of members more than doubled (from about 24 constituents in 1996 to 56 in 2003 and remaining, which is the most difficult). This has led to the modernization of the structure and the repertoire of works, currently taking a music academy students with a number greater than 25. As a curiosity, and as a sign of interest rooted musical tell Instinción the villa is a small town in the province of Almeria, located in the Alpujarras which has a census of 600.
We have a vast curriculum in terms of performances throughout Almeria and Granada geography as outstanding performances are held at City Hall and Almeria Roquetas, permanent presence at the fair, at parties and Easter neighborhoods. With an average of 60 to 70 performances annually. We participated in all provincial competitions, are active members of FEDERBAND, since its establishment, and the proof is the contribution to the 2000 Provincial Youth Band of 19 musicians, with the band that we provide. We highlight our presence in the Andalusian Bands Contest in Alhaurin el Grande (Malaga). We have also participated in several national competitions as representatives of the province of Almería.
The year 2001 was very important for us, as we got the second prize in the Andalusian Band in Ronda, category C. We also make a fitting tribute to the comrades who preceded us in the pool, getting to meet under the same baton three generations, a hundred musicians in an unforgettable evening for all.
Easter is one of the highlights of the year that the band gives their all, marching in Benahadux, Taverns, Cuevas del Almanzora, Jaen, Roquetas, Almeria, etc.. of course not miss our in Instinción. In 2003 we went in Almería official career, accompanying the Brotherhood and Brotherhood of the Holy Christ of Mercy in his crucifixion and the Virgin of the Angels. In 2008 the band went happened more times a career officer in Almeria 4 times Angeles, Mills, Students and Risen.
We recorded an album in 2004 in collaboration with Canal Sur and Association of Guilds of the declaration on the occasion of Easter Almería attractions.
On January 28, 2005 we presented our second album Procession marches, we shot, with great sacrifice. Passion and Glory, II Centuries of History.
On July 9, 2006 we participated in the National Festival of bands in Villafranca de los Barros in Badajoz.
Excited to continue working to raise the level of the National Contest of Bands "Villa de Instinción" that we have been celebrating biannually and in its ninth edition, have surpassed all expectations in terms of audience and bands from other parts of Spain.
We would point out that we were the first band that has marched Andalusian Disneyland Paris, this was the August 9, 2007. An incredible challenge that took us to live our dream.
In 2010, the band has been awarded the Guild Guion (wave zero) as the best interpretation of this band in Easter 2010. Another success achieved from work, humility and perseverance of all its members.