Presentation of "Esperanza Nuestra 2012"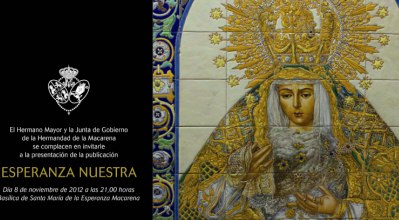 Next Thursday, November 8, at nine in the evening, the number will be presented for the year 2012 of  " Esperanza Nuestra", a publication that was so popular in its first issue of the third period.
This year's edition will be surprised by the quality of partnerships, both written-with enormous prestige firms that, as in the last edition, the texts have been developed specifically for the publication of the Brotherhood of the Macarena-like graphs, in which has also increased the number of images.
Speakers at the presentation ceremony NHD Carlos Colón, partner and member of the editorial board of  "Esperanza Nuestra", and D. Andres Amoros, partner of this year.