Economic benefit in the payment of dues and alms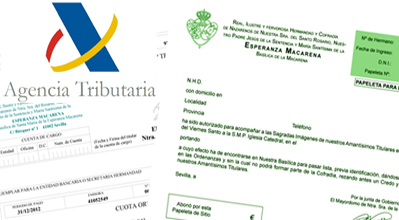 As in the two previous years, those brothers at January 27, 2013 have successfully brought the NIF in their census form will benefit economically by paying their dues, for contributions made to social assistance, and no anonymous alms paid during the fiscal year just ended, including the Ballot Station Site for Penance .
The cost savings consist of a reduction in tax liability in the annual declaration of income tax, equal to 25% of the amounts contributed by the above mentioned concepts.
Therefore we encourage the brothers who have not yet done so to review and, if correct, census data, so we can enjoy this significant reduction in the cost of their contributions to the economic support of the Brotherhood.
This review can be done conveniently through this website, in the section entitled "Personal Data" which can be found within the access reserved for members of the corporation.
It may also be sending a copy of ID hermandaddelamacarena@esperanza-macarena.es email, fax (954 90 31 77), by postal mail or in person inthe Secretariat.
Remember that as a general rule, the brother is the beneficiary of that deduction.
Exceptionally, and only in cases of siblings under 18 to December 31, 2012, may be another person's entitlement to the payment of incentive fees or handouts minor brother, provided upon request and meeting all of the following conditions:
Concerned the parent or legal guardian, crediting it with the DNI and the corresponding family book or document from the registrar.
And that payment of the ordinary fees of minor brother have been paid by direct debit from a checking or savings account that is held by the parent or legal guardian who requests it. You'll need to provide supporting documents or certificates issued by the financial institution along with your ID.
Those brothers at January 25, 2013 meeting the above requirements have been able to benefit from these tax incentives may apply from the date February 1, 2013 the corresponding certificate, which will be provided through email or in person the Secretary of the Brotherhood.
Pedro Bohorquez Jimenez
Mayordomo de Ntra. Sra. de la Esperanza