Solemn Pentads began in honor of Ntro. Padre Jesus de la Sentencia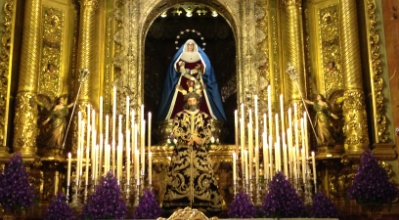 On the afternoon of February 19, began the solemn Pentads in honor of Our Father Jesus of Judgment, occupying the Holy Chair the Hon. and Rt. Mr. D. Borrego Antonio Cobos, and Rector of the Basilica of San Gil Abad Pastor. Intervened Polyphonic Choir of the Brotherhood.
During the days of Pentads, and until its completion on Sunday, February 24 with a solemn function in his honor, the venerated image of the Lord of Judgment-popular beautiful tunic with thistles remain exposed in Besapiés devotee.
The brothers who are unable to attend in person to worship, may follow through Mary Vision, which delivers all the Pentads Eucharistic celebrations, from Tuesday February 19 to Friday February 22, delayed at 23 hours, and in direct the Saturday 23 February and Sunday 24 function. These may screenings of TV broadcasts in the provinces of Seville and Madrid (frequency 60 of DTT), and through the Brotherhood's website from anywhere in the world.
Similarly, those who for any reason can not attend in person or cult or through Mary Vision emissions can do so from the day after the Esperanza Macarena TV channel of our website that will host the broadcasts extracts that include the Gospel reading and homily. The solemn function on 24, will be uploaded in full.