Septenario painful in honor of Ntra. Sra. de la Esperanza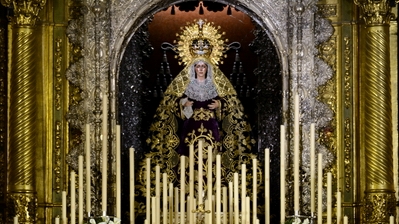 On Sunday March 3 starts on Septenario painful Solemn Brotherhood devoted to Ntra. Sra. de la Esperanza. Starts at 20, 00 hours with the recitation of the Rosary, and exercise Septenario Mass on Saturday, ending March 9 with Exhibition, Blessing and Book Salve Divine Majesty and to the Blessed Virgin.
Occupy the Holy Chair the Hon. and Rt. Mr. D. Juan Francisco Rojas Martinez, Dean of the Cathedral of Jaen and Canon of the Cathedral of Baeza. Intervene the Polyphonic Choir of the Brotherhood
On Sunday, March 10 at 12 noon, as the culmination of the septenary, the solemn function was held chaired by the Hon. and Rt. Mr. D. Juan Antonio Martinez Camino S.J. Auxiliary Bishop of Madrid and secretary of the Spanish Episcopal Conference.
The brothers who are unable to attend in person to worship, may follow through Mary Vision, which delivers all the Septenario Eucharistic celebrations, Sunday 3 live from Monday 4 to Friday 8 March, delayed at 23 hours, and live the Saturday 9 and Sunday Function March 10. These may screenings of TV broadcasts in the provinces of Seville and Madrid (frequency 60 of DTT), and through the Brotherhood's website from anywhere in the world.
Similarly, those who for any reason can not attend in person or cult or through Mary Vision emissions can do so from the day after the Esperanza Macarena TV channel of our website that will host the broadcasts extracts that include the Gospel reading and homily. The Solemn Day Function 10, will be uploaded in full.