Camp macareno as the end of the training course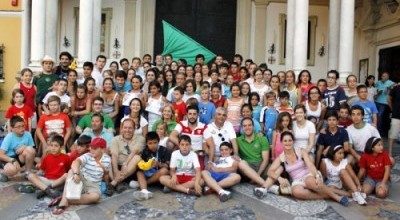 During the 5, 6 and July 7 camp was held culminating training course that has occurred in the Brotherhood. One hundred and ten children have participated in this coexistence that ends the activities that have been developed over the past months.
In the Tagus camping Roller, located in the Sierra de Grazalema, with their instructors and trainers, have been enjoying a few days of fun and the culmination of the course day off. This activity was led by Mr. Counsellor First, D. Eladio de Leon Carrillo, who was accompanied by Mr. Chaplain Fourth, D. Borjabad Jesus Garcia, Mr. Prioste of Our Lady of the Rosary, D. Miguel Angel Fernández Almagro and Mr Deputy Chief Government, D. José María del Castillo Jimenez.
After the arrival of the participants of this coexistence, which strengthens the bonds of brotherhood among the young, gave thanks to our Sacred Headlines on the right end of the activity, praying to their plants.
Photos NHD Miguel Exposito and N ª H ª D ª Sandra Arenas