La Hermandad de la Soledad de Alcalá del Río in the Basilica
Comentarios deshabilitados
23 October 2013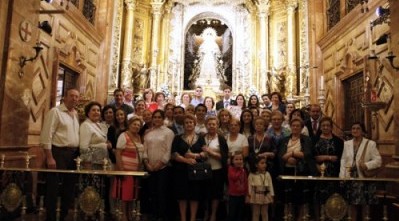 On October 21 rotated view of the Basilica of the Macarena , so corporate and occasion of the Jubilee Year Macareno , the Real, Very Old , and Fervent Illustrious Brotherhood and Brotherhood of Nazarenes Entombment of Christ in his Mercy and Our Lady of Sorrows in Soledad Crowned , of the neighboring town of Alcalá del Río.
Soleana The delegation , comprising one hundred and forty people , was headed by his brother Major D. Aurelio Dominguez German , with the Board of Governors . After the Eucharistic celebration presided over our brother the Rev. . Mr. D. Ignacio Jiménez Sánchez- Dalp , and after being handed the parchment , the Big Brother of the Macarena , obtaining indulgences on the occasion of the Jubilee Year , the members of this numerous representation turned museum visit of the Brotherhood and fell to plants of the Blessed Virgin in the niche that custody .
 Photos N ª H ª D ª Sandra Arenas.