Cardinal Rouco Varela at the Basilica de la Macarena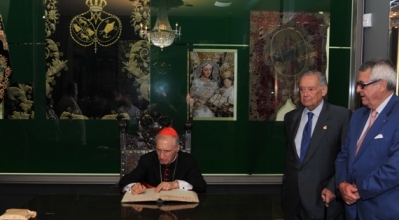 Archbishop Rouco Varela, the Cardinal Archbishop of the Diocese of Madrid and President of the Spanish Episcopal Conference, visited the Basilica of Santa Maria de la Esperanza Macarena, on the morning of Friday 25 May. He was received by the Rector of the Basilica, Rev. NH. Mr. D. Antonio Borrego Cobos, Big Brother of the Brotherhood, D. Manuel Garcia Garcia, and Lieutenant of Big Brother, D. Álvaro García-Carranza Garcia, Counsellors, D. Eladio de Leo Carrillo, D. James D. Ortega Alvarez, Agustin D. Bello-Conde Valdes, the Steward of Our Lady of Hope, D. Pedro Jimenez Bohorquez and Prioste of Our Lady of the Rosary, D. Miguel Angel Fernandez Almagro, who brought him down inside the church where he prayed to the plants of the Blessed Virgin before presiding over the Holy Eucharist, which began at nine o'clock and the auxiliary bishops who concelebrated Rvdmos Madrid. D. Juan Antonio Martinez Camino, and D. Fidel Herráez Vega and the Director of the Metropolitan Seminary of Seville, the Hon. Mr. D. Miguel Angel Nuñez Aguilera.
At the end, Cardinal Rouco accompanied by Big Brother, the Governing Board and dignities that make up the staff, agreed to the chapel where they prayed to Our Lady of Hope, trusting in their defense and protection. Later he visited the museum of the Brotherhood, where he was explained the relationship of the Corporation with the neighborhood and universal screening of devotion to Our Lady of Hope, a fact summed up in the exhibition of images, audio, logos and utensils are shown in museum installations.
During his visit, which lasted until after eleven o'clock, Archbishop Rouco Varela was pleasantly surprised by the pastoral and charitable work undertaken by our Brotherhood and the profusion of cults and Masses celebrated in the temple macareno.
Photos CANDAUFOTÓGRAFOS