The Youth Band of the Century stands in tribute to Joselito the Rooster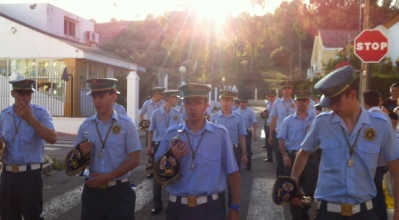 In the afternoon of May 11, the people of Gelves began the commemoration of thecentenary of making the right choice of José Gómez Ortega, Joselito el Gallo for immortality.
For this important event, preambles to others who will continue until late September, the council refused to recognize the important gelveño linking the bullfighter and the Brotherhood and this included the Youth Band Bugles and Drums of the CenturyMacarena. These musicians, who are wasting macarenismo, with its elegant and harmonious sounds, wherever they go, made ​​the opening parade of the cycle that renews and announces a new generation the importance it had, has and will Joselito inthe modern concept of bullfighting. As the procession moves through the village streets,the windows and balconies opening onto the exquisite performances of the youthfulfomación caused astonishment when he certified that the authors of the harmonious and beautiful ordinary marches exceeded only in middle age, fourteen .
True to the style that graces the premium and air were in the unusual torrid afternoon in May, peaking of musical excitement the urban landscape of the preparation showedGelves acquired during almost all year, and demonstrate and expand the sense of thistiny people the macarena, as heralds of hope, which are beyond the devotion that runs through their veins.
On May 11 again to show signs of expertise that have honor with his music who did so much for the Universal of the Virgin. The future remains of them, these children whodream of dawns and sunsets of Good Friday.