Tte. Colonel D. Antonio Rebollo Martinez delivers his sash to the Virgen de la Esperanza.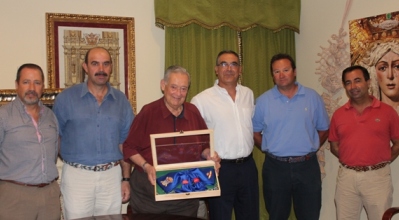 In developing a simple but exciting event, Lt. Colonel D. Antonio Rebollo Martinez, made ​​a donation of sash that recognizes him as chief military scale Our ​​Lady of Hope.
Lt.. Colonel Rebollo has held, until recent date, the post of Chief Helicopter Squadron BHELMA IV, based on the quartering of the butler, and after years of meaning and service brilliant command of the airborne force, which has conducted missions in the Balkans, Lebanon and Afghanistan, has been assigned to the Eurocorps, the Army Corps to serve the European Union (EU) and NATO, the latter as certified Army Quick Reaction and NATO Response Force.
The Helicopter Battalion BHELMA IV is protective for all the missions it undertakes and its logistics base in El Copero, Our Lady of Hope Macarena and his altar chairs the arms room of the detachment.