Conclude the Fiestas de la Macarena 2012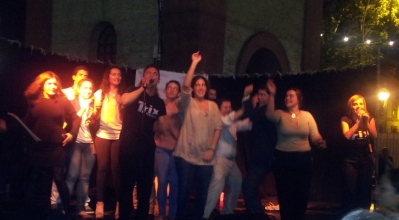 The third day of the Festival of La Macarena put an end to this popular celebration organized by the Brotherhood of the Macarena. And how could it be otherwise, concluded in the same spirit with which began: with fun and joy, values that reflect the spirit and feel of the Corporation itself.
At ten in the evening, the TRIX Orchestra began its performance with themes of all time. Rafa followed Serna who played his best songs. The group Albero put the finishing touch to an evening that did not miss the fun until the very end.
Our sincere thanks to all who have participated in these parties, who have worked together, in any order, so that all come out as planned, especially to the city council, the Macarena and Districts Old Town, the area major festivals which always showed the best availability to reach the goals that the Brotherhood was proposed, in an effort to serve the needy and contribute, in their measure, to reduce the immediate needs that affect many of our brothers.