San Juan Bosco will visit the Basilica of the Macarena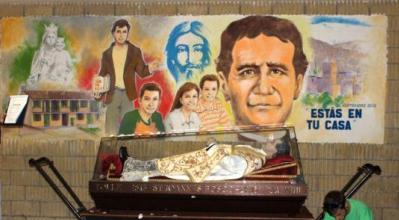 On Saturday 29 September the Urn Venerable Relic of St. John Bosco reach the Basilica of the Macarena in his journeys through the five continents to commemorate the second centenary of his birth. In his tour visiting the revered relic comes all Salesian centers, cathedrals and shrines of greater relevance.
The official program shall be as follows:
20:00 h. The Colegio Mayor San Juan Bosco goes to the Basilica of the Macarena to wait for your pattern.
20:40 h. Arrival of the venerable relic of the Parish of St. Giles, from San Lorenzo, and rise to processional.
20:50 h. Father Provincial of the Salesians Inspector D. Francisco Ruiz, SDB delivers the Salesian Community Relic of St. John Bosco High School. The urn with the Venerable Relic then begins the procession from the parish of San Gil path of Basilica Macarena carried by bearers.
21:00 h. The Rector of the Basilica of the Macarena and the Governing Board of the Brotherhood of Hope Macarena, with university academic authorities, are in the atrium of the Basilica and the Venerable Urn entrance procession begins inside the Basilica .
Then Solemn Mass offered by the University College of Seville San Juan Bosco with his old College, along with all the Youth Ministry and Religious Assistance Service at the University of Seville (Sarus) and colleges of this city the revered Father and Teacher of Youth, St. John Bosco, at Our Lady of the Esperanza Macarena, presided by Rev. Fr. P. D. Antonio Maria Calero of the Rivers, SDB, Fellow of Honor Colegio Mayor San Juan Bosco and member of the Pontifical International Marian Academy and Society Mariological Spanish, and concelebrated by the Directors Salesians who have passed through the College with the community Salesian College and other priests. Interpret and musically accompany the Choir of the Holy Trinity Salesian.
22:15 h. At the conclusion of the Solemn Eucharist, be followed by solemn transfer of the Venerable urn with the Relic of St. John Bosco at University College San Juan Bosco, carried by the crew of bearers of Mary Help Crowned of the Holy Trinity, led by foreman Antonio Santiago and musical accompaniment of the musical group Our Father Jesus of Health, with the support of loyal and devoted. The relics of St. John Bosco are touring Spain on 1 May this year came to Bilbao, but the rest has already visited many countries in different continents and continue their journey to the 2015 bicentennial year of his birth.