The primary function of the Institute will be broadcast live on tv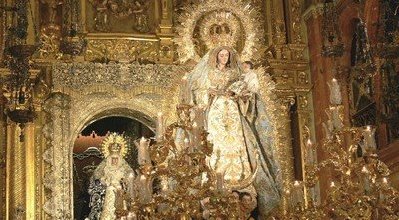 On 21 October at midnight INSTITUTE MAIN solemn function chaired by the Hon. and Rt. Mr. D. Santiago Gomez Sierra Vergi and Titular Bishop of Seville Assistant.
At the offertory of the Mass will this public Brotherhood protestation of the Catholic Faith.
This solemn function will be broadcast live on television María Vision by tuning the frequency 60 of DTT to Seville and its province, retransmission can be followed worldwide through our website by clicking the link Brotherhood found therein.
A six-thirty in the afternoon of this day will come in procession through the streets of the holy image of Our Lady of the Holy Rosary.