ESPERANZA NUESTRA Presentation 2012; The President of the Brotherhood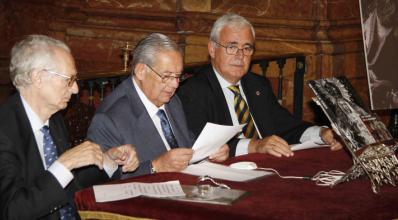 It is my pleasure and honor to address you on the occasion of the presentation of the number for the year 2012 of our hope, the landmark publication of the Brotherhood of the Macarena that, since last year, which began its third season, is published annually.
A year ago, when we presented the first issue of this new era, referred to in my speech to the project that the Brotherhood had begun to improve, update and provide the highest quality to your media.
Today I am going to let you move the entire satisfaction of my Board of Governors to consider these goals achieved in a high percentage.
Ten months ago we present the new website of the Brotherhood, which is responding to the current demand for information and enabling the brothers perform many administrative tasks from home.
Cults and acts develop widely and rapidly expand the entry of the Brotherhood in social networks.
The brothers receive punctually at their computers and mobile information corporation's life through Virtual Bulletin and email.
And we have recently signed a cooperation agreement with the Mary Chain Vision that will participate in the worship and veneration of the Blessed Virgin of Hope on television and our web site from anywhere in the world, expanding the horizons of devotion macarena.
Part of this project and then reality is our hope today, a publication where all information is gathered background of last year, statistics, personal testimonies, theological reflections, and historical research in its most varied artistic dimension, literary texts and a wide unpublished image gallery and historical large-format, as a result of the participation of renowned authors, whose collaboration sincerely want to thank tonight.
 Our hope has now become, in the second issue of its third season, presented today in a particularly valuable contribution to the achievement of the purposes of the Brotherhood.
 Cults are comprehensively covered in high quality images in the memory of last year, and are summoned through the publication calendar closes.
 The great work of our Social Assistance is given to know the brothers, a major initiative to promote collaboration and commitment to the most disadvantaged, through the comprehensive report that is included in its pages.
 Training gets a solid boost with the unquestionable quality of theological texts of the central block of the work.
 The reputation of firms and chambers collaborate again in this issue, which then relate our dear brother, partner and member of the editorial board Carlos Colón, is beyond doubt, doubt that the authors never had when they received the call Brotherhood of the Macarena to participate in the publication.
 In all, our thanks and congratulations. To all of you, our hope that this new number is to your liking and become a piece of the Brotherhood you have in your house, so you can enjoy it the best of the Macarena.