After the deadline for applying Varas and Insignia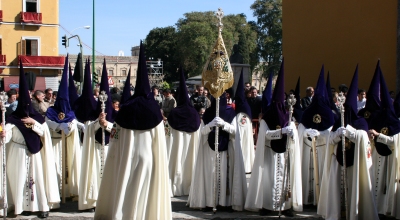 The members more than a year old, have the option of requesting VARA and logo, to accompany our Headlines Sacred Penance in the station to the Cathedral in the Early next Friday.
Such a request may be made:
On Line, through access reserved for the brothers, until 22 February.
Or by downloading, completing and submitting to the secretariat physically Brotherhood by any other means of filing the form found in the download section of this website, all before the date referred to above.
A new feature from this year, each brother can only make a request for VARA and / or DOS for carrying desired INSIGNIA by step, and must specify whether to exclusively occupy a particular place within the penitential procession or antiquity that corresponds, in both
 If one brother wants to submit more than one application logo should complete and return as many forms as requests made from highest to lowest preference. Should you opt for physical shipment must indicate numerically.
Cross lanterns and Mediatrix Guide and speakers, will be awarded first to those Brothers who, enjoying the service required, at their request.
Once the rods and badges assigned among those who requested it, will have to be withdrawn in person or by a person authorized in writing, within the period stipulated by the Brotherhood to take place ballots in person (from February 26 to March 2, inclusive ). After this time, and not having been withdrawn by the brother that was assigned, the Brotherhood will have the same, and in any case will be delivered between the Brothers present, whether or not they requested some of them, and they have taken the ballot corresponding site on the last day and for the next hour, to conclude on time.
 Only those badges may request or rods below, pleading refrain from using the attached form those Brothers who want a seat or acolyte acolyte, or another of courtship generally not included in the attached list