King Baltasar Offering to Our Lady of Hope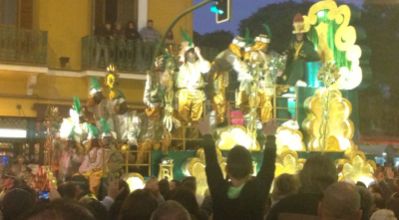 The King Baltasar, which this year was played by Eduardo Dávila Miura NHD, paid sincere offering to Our Lady of Hope. Royal entourage to pass by the doors of the Basilica, stopped for a moment the royal chariot, where he was throwing joy and happiness for the whole journey, to put the soles of the Virgin of Hope across generational devotion implies in their blood.
The King Baltasar, from his glittering throne, knelt before the Mother of God to Hope radiate throughout the city. A part of his entourage moved to the soles of the Virgin that is your heart center and let a bunch of flowers. Big Brother and the Board of Officers witnessed the emotional ceremony, which was also attended N ª H ª D ª Reyes Miura, mother of the bullfighter, and part of their family.
Just before offered another bouquet of flowers to Our Lady of Hope Macarena, also in a gesture denoting devotion is rooted in many of the hearts Seville, the Wizard of Illusion, which was embodied by the writer, journalist and eminent Seville D. Antonio Bustos Rodriguez.
Among the floats that made up the entourage of His Majesties Royal, Seville was the nominee Romana, which was composed of children of our Brotherhood, through collaboration that social assistance remained with the illustrious and most excellent institution Seville.
Photos NHD Francisco Narbona Soto y NHD Fernando García Arcos