The Municipal Band in Mairena del Alcor Macarena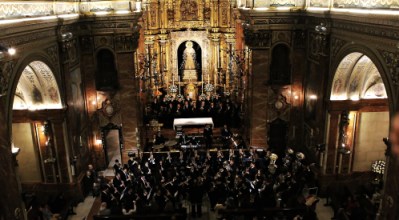 On the evening of Saturday January 19, the Basilica of Santa Maria de la Esperanza Macarena welcomed the musicians that make up the Municipal Band of Mairena del Alcor, featuring a procession marches and concert benefiting the concert series in the Brotherhood is scheduled for this course.
Given a teeming and expectant audience, the band was playing Mairena del Alcor repertoire masterfully reproduced below. At the end of the ceremony, Mr Deputy Chief Government of the Brotherhood of the Macarena, D. José María del Castillo Jimenez presented a photo mural director of the previously mentioned musical group before starting his concert made a wreath to Our Lady of Hope.
The repertoire was performed as follows:
PART
CORONATION OF MACARENA (Pedro Braña)
SEVILLA COFRADIERA (Pedro Gamez Laserna)
Esperanza Macarena (Pedro Morales)
EASTER PROCESSION IN SEVILLE (Pascual Marquina)
MARGOT (Joaquin Turina)
PART TWO
PASS THE VIRGIN MACARENA (Pedro Gamez Laserna)
MACARENA (Emilio Cebrián)
Macareno ANNIVERSARY (José Velázquez)
HOLY MARY OF THE UNDERGROUND (Pedro Gamez Laserna)
Osanna in excelsis (Oscar Navarro)
BIS
MACARENA (Abel Moreno)
Photos of N ª H ª D ª Sandra Arenas