Face of Ballots Cast Site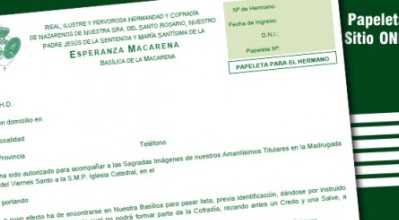 The members who want to take the ballot site to perform penance station the next morning of Good Friday, may do so in person from Tuesday February 26 to Saturday, March 2, from 18:00 to 21:00 .
During this period the ballot will also be available through the web page, without scrolling or waiting, in the area reserved for brothers, the novel possibility that many have used as brothers since its inception on January 2.
Almsgiving output remains in the same amount as last year, 28 €.
From 4 to 18 March Ballot may be obtained exclusively candle Site as alms paying out € 40, without losing the site that corresponds to the guild. The brother who for any reason the obtained outside that period will lose the place appropriate seniority will occupy.
Remember that in order to obtain the ballot site is essential to be aware of the payment of fees brother until the first quarter of 2013 included.