La Macarena de Miami en la Basílica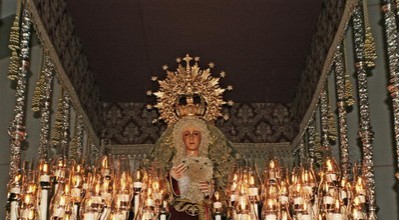 After completion of the restoration work that has undergone the image of Our Lady of Hope Macarena, the city of Miami, and before returning to the United States, will be exposed in the Basilica of Santa Maria de la Esperanza Macarena, from 8 to 10 February.
The restoration work was carried out by the author of the picture, the sculptor Miguel Bejarano Moreno in his workshop Guadiana Street, in the neighborhood of the Fair.
On Sunday 10 February at 0:15 will officiate the Holy Eucharist in his honor before leaving for your destination ceremony may be followed live through the website of the Brotherhood and Mary Vision Portal.
Sacramental Brotherhood and Brotherhood of Our Lord of the Missions, Medinaceli Captive Christ and Our Lady of Hope Macarena, based canonical Corpus Christi Parish, was founded on August 25, 2001, having its origin in the arrival temple said the image of the Virgen de la Esperanza Macarena in 1998, since then the procession under a canopy on the afternoon of Friday through the streets of his parish. It was blessed by Bishop Roman, Bishop of Miami, the University of Santo Tomas the Columbus Day.