Tax Deduction for Fees and Alms provided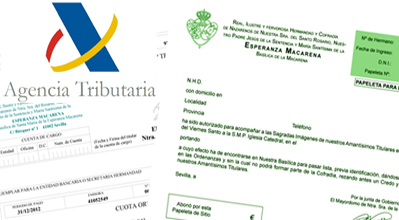 Dear members
The last day from April 24 until July 1 is open submission of annual income tax statement for the year 2012.
As in 2011, those brothers / sisters at January 30, 2013 had successfully brought the NIF in your census form as a member of our corporation, will benefit financially for their contributions paid in the past year and of non-anonymous alms given to the Brotherhood, including the ballot corresponding site for Penance Station.
This reduction of the gross tax that tax will be equivalent to 25% of the amounts contributed by the above mentioned concepts.
For this exercise, are something more than 5600 brothers / sisters who, gathering the above conditions, will be able to get compensated for their contributions to the economic support of the Brotherhood, which have such deduction been reflected in the draft or in the information tax received, or will receive these days by the tax Agency.
Nevertheless, only the brothers mentioned in the previous paragraph, in case you need a certificate from the contribution made may apply to the Secretary of the Brotherhood by any of the usual means, which will be forwarded as soon as possible
Therefore, we encourage those brothers / sisters, who have not yet done so, to review and if necessary amend, their census data, especially the NIF, to be awarded this significant reduction of the cost of their contribution to the Brotherhood in coming exercise.
As you know, this revision can be made conveniently through this website, in the section called "Personal Data" which can be found within the access reserved for siblings of the corporation.