The Basilica of the most visited monuments in Seville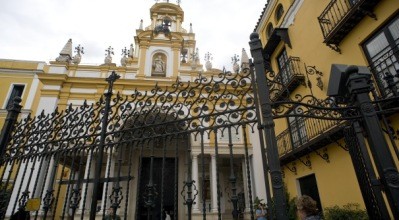 Acording to a study released by the newspaper ABC de Sevilla, the Macarena Basilica and Museum, is among the top ten monuments visited city.
The Basilica of Santa Maria de la Esperanza Macarena, also popularly known as Basilica of La Macarena is a Catholic church located at number 1 Becquer street, in the neighborhood of La Macarena. The building is the headquarters of the Brotherhood of La Esperanza Macarena, makes penitence in the early morning of Friday with images of Our Lady of Hope Macarena and Our Father Jesus of Judgment.
Construction began in 1941, when the April 13, Pedro Segura y Sáenz, Archbishop of Seville, blessed the land on which it was built and laid the foundation stone of the temple, and completed in 1949, being blessed on March 18 by the same archbishop and acting as sponsors and Serafina Queipo Salcedo, and consecrated by Cardinal José María Bueno Monreal, Archbishop of the city, the October 7, 1966.
The work was carried out by Seville architect Aurelio Gomez Millan, and it is a building of a single nave with side chapels. The temple received the dignity of Minor Basilica by a bull of November 12, 1966 issued by Pope Paul VI, thus being the first temple Seville in showing that dignity.
  During this year, following the granting by the Holy See, the Jubilee Year is celebrated Macareno, during which plenary indulgences are achieved by meeting the requirements mandating the Holy Church.