Act 2011 Exaltation of the bolt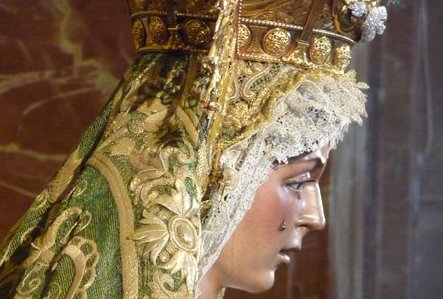 In the streak, which is the Queen of my soul / I was lucky to sing without finding no peace and calm / but it was worth it / was winning a battle / to sing Macarena. / You that since I was a sucker / I tuvistes by your side / my parents your casastes / and my entire family / sow always green.
You do not "partopera" / and if merited the expected / hoped to sing / to wait for Rezart / are ten years of illusion / to keep you ahead / and on a balcony of your basilica / with my faith, I could sing / brother of your brotherhood / Madam I always / and there is no sun in the world / as your eyes now / Just in front of your bow / flying your flag / sing you a string / with humility and respect / and in a simple / more I joined the hammer / that took root in my throat / with a cry which Rivet.
Now I ask no more / no need to give me another PPORTUNITY / it is both my respect and the love you profess / bolt that holds that a passage in my dreams / treasure that is stored with the key to this owner. / What a joy to Mother Lily of Hope / I flanked by my mother saw boom / in front of the Macarena to the sound of wings / and behind my mother's good with her face so fine / that is paradise, love more faithful and fine / that of my mother on earth and the divine sky. / That moment keeps it as my good judgment / in front of you under canopy, which gave me back my essence / between the two have created this humble servant / and I want to be forever compliant insurance / to ever see her listening to my songs / the other in his dressing room answered my prayers / Two mothers, one love that fills me with temperance / and arc light envelops me in a thousand tones of hope / I can now tell everyone I live in happiness / with love of mine that if that is true / that has been painted green in the wake of my fate / shelled of your robe embroidered in fine gold. /
I do not need anything, arrows, or song / or balconies, or scenarios, or applause, or decorations / her mother who wants a constant love / not nor will ever have a bad pain or pain / for having you my mother in front of my soul / I the same when you walk through this house / the same when in Seville is acclaimed Sky / springs from my heart a great calm / that just gives me that sweet mother, pretty noble and good / that is living in my house and live in the Macarena.
Queen Mother of Seville, not away / from me you're a woman without stain / away from my sin and wants to hurt me / Mother protect me, and let me always see me / in your eyes of hope, that mother dark / light gave me life and my Virgen Macarena.
Carrillo Alvaro Alfaro NHD
* Extract from the act of the Exaltation of the Arrow 2011