Thanks nephew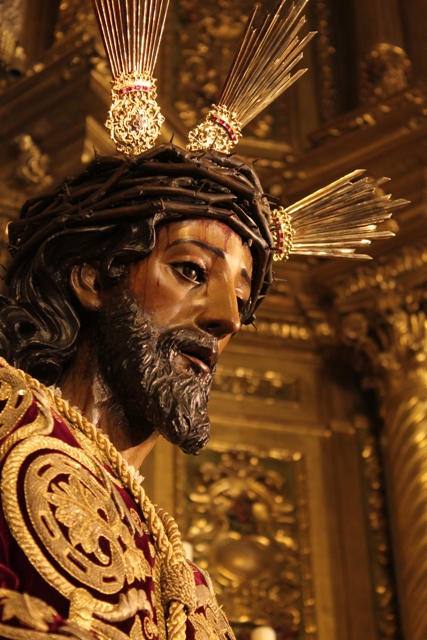 It was 0:05 am on April 2, two thousand ten when, after waiting eleven years a dream came true. The calendar marked the April 1 of 1999 when you saw the first light. Your arrival were filled with joy to all parents, grandparents, titos and of course me, a humble macareno than 5 months earlier predicted that nacerías Holy Thursday. And so it was. That day, at 00.05 h. (Uff!, why little), I knew you'd Macareno. How much did I make you dream brother with only a few days old, but I wanted more. I wanted to see of Nazareth, you did penance Station next to me, make you feel macareno. Then came the fall of 2009, you had decided to leave and thus NAZARENE you had made it known to your mother. Fate had also made the rounds this Holy Thursday cumplirías eleven.
Until the arrival of that day were all racing. First I bought the shields, then I bought the girdle, fabric, velvet and crown. Now it was prove the layer mask and tunic. Your mother and your grandmother, put all their dedication to Nazareth were the most handsome of the brotherhood. And they did it, well he succeeded. On the other hand, took the opportunity to tell you my experiences and try to make you understand that the Madrugá was very heavy and that maybe, just maybe, it's a good idea that you will incorporate the procession from the cathedral, like my parents had done me with your age and thus would make the entry together. You refused outright. Even the fact that my 1st full season out at 18 scared you.You had me out and would attempt to make it complete.
And it was your first Madruga. I expect at San Luis. Were your parents smiling, excited, did not stop looking at you. We soon passed into our beloved Basilica and from here, an hour of nerves. We pray before our headlines, picked up the candle, we saw the bow of the Great Power, stealing my badge, a hug, a big kiss and … 00'05 arrived Friday. They opened the doors of the basilica and the tears began to spill down my cheeks, how beautiful!. We were on the street, now, to enjoy an unforgettable season of penance.
I did not know if you endure, not far would you go, but what was certain is that not just forget that night ever. One step after another went forward. Fair Street, Alameda, Seville saw the Lord entering bell and I realized that the latter made you forget the first fatigue. The official race all she did was strengthen you. The next goal was to get in the best conditions to the Incarnation, but before we enjoy a splendid revira of HDAD. Of Gypsies in Orfila. By then, were the only child of the section and each time he approached a Samaritan by foods Guide to the Cross, a Nazarene always thought of you. "Giving the child who comes to us from the start," I said. From here, you dream was to see the sunrise. By then it was already eight o'clock and it was only the final goal, but it looked so far …
There were 2 hours and now beginning to enter your ordeal. You lived the most difficult season of penance you. He appeared tired and sleep, our worst enemy, but you were not willing to give up. 2 hours were very hard. You stayed asleep standing up, you dropped the candle, but still did not want to get out. Your last meters were a nightmare. At the time, and gave you the sun in his eyes and never had the strength. Beneath the arch could not anymore, "Mom, catch me I fall to the ground", but somehow, OUR FATHER JESUS ​​OF JUDGMENT and OUR LADY OF HOPE MACARENA could not allow you to stay so close."Paul, you're tired. Stay here with me. If you've done almost entirely, "said your mother and your answer was immediate," No mom, I promised to tito entry would do it "and so it was.
Finally, I ask you to be my partner Paul in another way. On the way to the small ISABEL transmit our feelings and ask from these lines, to take care of it the day you make your first season of penance, like I did with you. Thanks Paul for that Madrugá.
NHD José Luis García Falcón