"24 years of experiencing intense support" macareno "…"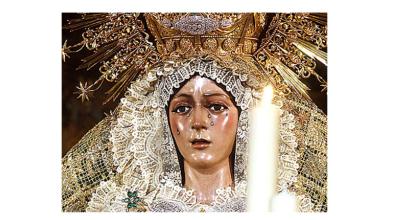 Macarena Ruiz Peñalosa dedicated to his uncle, Antonio Peñalosa Benitez, in his 49th birthday, former costalero of Our Lady.
Children with the smell of incense and orange blossom … lost track of time because at his grandfather, "Titi" marches brothers always put up in August … I was going to his grandfather's hand and say "queen, we will enter see the Virgin ", a must … detail, that today, in passing, that can not happen … Children Ramo charged Sunday with family, premiering shoes (which less!) … Leaving early from church to church as "they" told her their stories … "passages brothers, Candeleria, gold, sculptors …" It was one of the most intense weeks of the year, day by day in the street, enjoying the Easter week …
But … come on Holy Thursday, something was changing … was dusk, after rest, "they" were about to prepare … "One", was preparing his sash, his sack and his "sausage" … "Other" wore robes merino, old, those who are now a relic … And were going … Meanwhile, this girl was anxious that dawn of Good Friday, to seek out … Other years, was at the corner of Fair and Resolana, when passed and waited impatiently …Nazarenes passed … And right in front of Christ, there he was … cargadito candy and faith, as he always loved his "judgment" … With its distinctive tunic and hebillitas … grandfather, grandfather!
And then … I saw her turn, to her, to the tune of "bell ringers" … That was his moment of glory … and right there he stood, was a relief, and ran to the "left leg" to call … titi! And he went home to bed happy … For the next day early and keep dreaming …
The years passed, and the bag was changed to the merino tunic … Another way of living had begun to emerge … His grandfather, though tired and old man, spent the madrugá front of the TV, watching "her Lord and Lady" through the streets of Seville … and this girl, her "queen", asking him to wake up at midnight when the might make his "Brotherhood" by Bell … Tears plying the cheeks of his grandfather … and, curiously, also ran his own …
It was a dream, do your penance station with her sorority, feel the "tuck" of all the brothers … That moment that so often told her Titi "Maca, that's pa 'live' … And that dream was fulfilled, 6 April, the day of the meet Mom …
Thank you my angel of the guard, because I know it was your birthday special!
And I do not know what to feel a "Macarena" … I know that I love, I feel it and I care … if mother say there is only one, I have two in the sky, called the same, "Macarena" , and that the Good Friday madrugá see them merge into one … I can not say and I go beyond the emotions, tears … illusion, uncertainty, nerves … With a candle in hand … that was heavy, weighing the overnight lead the heart in hand, alone and in company, yet surrounded by self-absorbed … To finish at home, at home, "our Basilica" … Feeling defeated, yet new, purified and filled full of hope … Feeling those who are no longer in this body … wanting rest, yet not wanting to end this wonderful experience … To put a finishing touch to any look, a hug and tears with which I feel my Father … Please join me in this feeling, Titi!