Brotherhood Mass for our deceased Brothers in March and April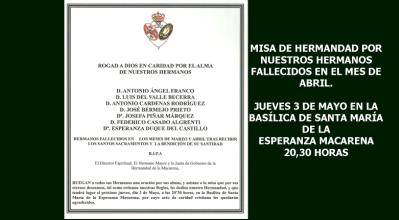 The Brotherhood of the Macarena held on Thursday, April 3, at the Basilica of SantaMaria de la Esperanza Macarena, requiem mass, and order our Rules, for our deceasedbrothers died in the month of April. Preside at the Eucharist, Rvdo. Mr. D. Antonio Borrego Cobos, rector and pastor of Temple of San Gil.
The families of our deceased Brothers have reserved a few banks.