I was never alone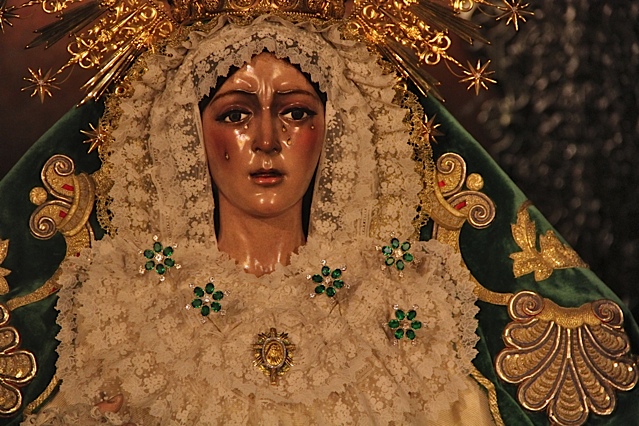 My friendship with Muñiz family goes back to twenty-nine years; friendship that has continued despite the distance of more than five hundred miles that separate us For vicissitudes of life, my wife and I, one day we strongly petitioned and Mrs. As always, she took our order. Thankfully, I decided to accompany her to the IF output Cathedral. But how was that? I was not in Seville, but also the family and the neighborhood Muñiz de La Macarena, and they left me in no time: First, to get me to where I confeccionasen coat, then as diligent in my Jura sponsors and Rules Imposing Medal and finally, accompanying the station Penance, as the brother who always goes after me is a family member Muñiz. And of course and although I saw her, I knew she was accompanying me and, looking through each and every one of those who went beside him, also looking for me.
 Throughout the tour I had lots of feel sensations that often did emerge tears to my eyes and I can never forget nor can I forget the way, Miguel Muñiz, macareno brother who is always behind me, gave me the Welcome to the Brotherhood. He did this:
Has the Virgin's face
smiling and penalties.
The basilica is full
their children who adore her,
that accompany your steps
through the streets of Seville.
That say they want it,
being called pretty
with that special tone
a son calls his mother.
Because you want to cheer,
of the penalty that falls
for that child who dies,
that you can not avoid.
But tonight the Virgin
look in a special way.
It seems you are looking
to an individual:
A special person.
Someone who when he saw
I could not endure,
and her tears wet
the streets of Seville
and came to join
with tears macarenas
crying every morning
joy, excitement,
Macarena with Queen
because it is the Mother of God.
Macarena, what's wrong?
Why are you smiling and crying?
Why your divine face
is brighter?
I weep for the Son
that the cross will be killed,
and smiled for another child
who came from as far
to accompany my step
through the streets of Seville
Thursday in the "madrugá".
The Virgin remained pending
of his son, Bilbao,
one morning in Seville
Macarena of a Queen
love is forever
for all eternity.
Therefore my thanks to all: A Muñiz family, my brothers Brotherhood, to the Governing Board, on the occasion of a visit of many that duty performed by Sevilla, so kindly assisted me and also why no, the deputy section that, when I came out in procession for the first time, I was struck very severely because he was a child waxing. Never forget your recommendation: The candle is to light, not waxing. What is not commenting here, which, referring to said stretch deputy said a member of the Governing Board. To all, my most sincere appreciation.
NHD Rufino Iglesias Arroyabe